CH2601 - Decker Chronograph Stainless Steel Watch - Black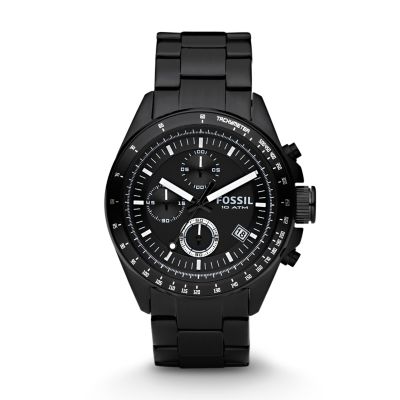 Our hardy Decker watch adds a bit of adventure to any look. The black chronograph dial (with lume indexes) sits inside of a stainless steel case. To add texture, the bracelet has both brushed and shiny black ion-plated stainless steel.
Decker Chronograph Stainless Steel Watch - Black
is rated out of
5
by
20
.
Rated

4

out of

5
by
Amy123
from
Very nice.
Pros: Looks nice. Works very well. Chronograph feature comes in handy. Cons: The watch itself is quite heavy, but after a couple days, you barely notice. The black does start fading away, so I would recommend being very careful when placing your arm on a desk while wearing the watch, maybe placing your hand on your lap? Not sure how to prevent the fading. Also, I am not sure if the Chronograph sub dials reset after starting? I started it and I glanced at my watch to see how long it has been and I saw that it was back in the zero position. I had it set for several hours, so maybe that's why. But it has occurred twice already. Other than that, the watch is really nice. Keeps great track of time, the date needs to be adjusted for the month, but that's all watches. I did not regret purchasing this. Great buy. And I especially love the black look. Really slick.
Date published: 2014-02-14
Rated

5

out of

5
by
Robmax14
from
Decker Chronograph
Love it. I get lot's of positive comments on this watch. Excellent quality.
Date published: 2013-10-17
Rated

5

out of

5
by
liez
from
Great overall watch
I have had this watch for a year now and have worn it everyday it has been great. Went snorkeling, skiing, kayaking, rock climbing with it and NOTING has gone wrong with it (aside form a few screeches and dents, but gives it personality and great stories). Works with formal wear as well, I love it!!
Date published: 2013-10-03
Rated

5

out of

5
by
Fossaholic
from
Love having this watch in my collection!
I love this watch so much. I'm very glad I decided to add it to my collection. I always buy Fossil and one reason is because of the amazing warranty, which is why I'm slightly confused about the reviewers that said they had issues and have basically thrown their money away. Why not just use the warranty that is already included with your purchase? I've used my warranty more than once, as I keep my watches for YEARS, and have always been very pleased with the results. I can't even tell you how many compliments I've received wearing this watch. I go to a lot dinner out a lot and the waiter/waitress is always commenting on how great it looks! Overall, very pleased and can't wait until I buy my next one!
Date published: 2011-11-16
Rated

4

out of

5
by
NickFossil
from
Not what I was expecting
This watch looks fantastic, but my first impressions were quickly altered once I took a good look at it. The watch is a bit bulkier than I was expecting and (looking in the light) the band part looks more like a dark gun metal gray rather than the stark piano black of the watch's face, surrounding tackymeter, and buttons. Though I have come into terms with the size of the watch, the color difference still bothers me at times. The biggest problem I noticed about the watch was that it's wrist band was huge compared to my wrist (I'm 18). I was easily able to fit three fingers through the band with the watch on. I knew that I had to remove links to adjust the band's length but since I didn't have the special tool to push out the pins and didn't want to use a paper clip and risk damaging the watch, I had to take it to a jeweler the next day. The jeweler charged me $6 to remove two links and now I am able to fit only one finger through the wrist band with the watch on. I guess that made up for the free shipping I got on it.... All in all I still like the watch, it looks great and so far I've haven't had any other problems.
Date published: 2011-08-19
Rated

1

out of

5
by
JCubed
from
Bad Watch
It looks great...it wears ok...very heavy. The black on the metal WILL wear off after a month or so of daily use...but the big dissappointmen.... The Thing fell apart! The adjustment knob wouldn fully seat so as I wore it...the date would change....or the watch would stop because it popped out of its "run" position. Then....yesterday....at 10:45 and 41 seconds....the knob and pin just fell out completely.....lost....and now the 3 month old watch is worthless. I am going to see if I can get a refund from the store I bought it at....somehow....I dont belive that is going to happen. Darn shame too...I have another FOSSIL watch that has worn like IRON for years! This one is just JUNK.
Date published: 2011-08-06
Rated

5

out of

5
by
JordanL
from
Very nice watch
The watch performs as stated with a beautiful look. I can not count how many compliments this watch has gotten me, and it goes with any outfit. I read that someone said their B button didn't work, but mine works just fine. in order to reset watch you have to pull out crown which is clearly stated in instructions. Otherwise the B button is just to pause the time. All in all great watch will be buying Fossil from now on
Date published: 2011-08-04
Rated

1

out of

5
by
wastedmoneyonfossil
from
Chronograph
I bought this watch a couple of days ago, (I'm from Denmark) in Macy's. The chronographic function have already broken as the arrows wont work, it seems the "B" button doesn't work - so I can't reset it. this is the most horrible purchase I have ever done. 115$ right in the trash can.
Date published: 2011-04-14