FS4487 - Machine Chronograph Silicone Watch - Black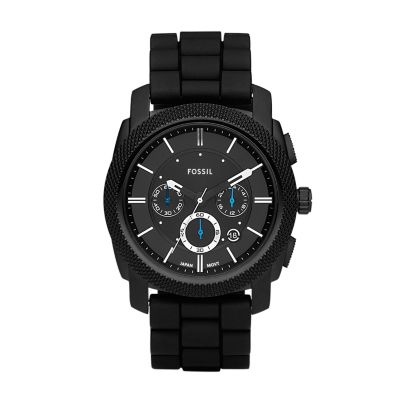 This chronograph watch features a knurled case that's sure to get noticed. The black silicone strap mimics a metal bracelet for a truly interesting timepiece.

For this interchangeable design, check out all compatible 24mm watch straps for this design, or see all of our interchangeable watches for more styles and colors.
Machine Chronograph Silicone Watch - Black
is rated out of
5
by
33
.
Rated

5

out of

5
by
ray44
from
Great Watch
I Received my watch about two weeks ago and I really like the machining around the watch crystal and the look of a steel band in silicone.My only complaint is that the date window could be a little bigger otherwise it is a great timepiece.I have a few fossil watches and they are all extremely reliable.
Date published: 2014-09-21
Rated

5

out of

5
by
JakefromStateFarm
from
GREAT PURCHASE! GREAT WATCH!
I bought this watch over two years ago while Fossil products were on sale at a local mall, and I've worn it just about every day since then, through mud, dirt, sand, ocean(up to 65 ft underwater), intense heat, intense cold, it's been beat around, dropped, landed on, scraped across bricks (I've really put this watch through some abuse). I've only ever had an issue with every now and then (usually at the beginning of the month) the day not being synced up properly (guess I'm just too lazy to wind it forward a whole month). I've still never had to get the battery, band, or face of the watch replaced or repaired. Even after scraping it on bricks and rocks, I just brush it off and there seems to be no trace (there is one small scratch on the face that you can only see if the light hits it right and you're up close). Did I mention the fact that the silicone band has NEVER pulled on arm hairs and is always easily cleaned/rinsed off? I've purchased several fossil watches over the past 10 years and this has by far been one of the many reasons I will continue to do so. Would recommend adding this to your collection if you are looking for a nice durable watch for everyday sport, casual, or business-casual use.
Date published: 2014-09-03
Rated

1

out of

5
by
SunshineGold
from
BAD QUALITY
I bought this watch for my husband for his birthday and three months later the front glass piece came completely off, while we were walking in the store no less. We heard something drop on the ground but didn't see anything and the man behind us said you dropped this. I couldn't believe it fell of that easy. I purchased at the Buckle but him being the man he is lost the receipt. For fossil to fix it they wanted $45.00 and then the cost to ship it! He loved the design of the watch so I caved and bought him another and this one lasted 5 months and the 0900 hour marker fell completely off and is loose inside the watch. I would not recommend this product to anyone. We do have several Fossil watches that we have not had issues with, this one just was not tested properly before selling.
Date published: 2014-08-20
Rated

4

out of

5
by
Brad
from
Great watch, but one question...
Anyone know how to sync up the date? At the beginning of each month I have to adjust the date because the previous month had 30 days and my watch was counting to 31. And February is an issue. I'm fine with manually adjusting it, just curious if there's another way.
Date published: 2014-06-12
Rated

2

out of

5
by
Blackwater1
from
Stopped!
I got this watch as a gift. The watch looks great and seems to be well made. The watch stopped working after the first year. Should the battery be dead after a year? I have other brand watches that have went for years before the battery had to be changed. This watch has not been worn much at all. I love the watch and don't get me wrong. I am not throwing Fossil under the bus.I have another fossil watch and love it!
Date published: 2014-06-01
Rated

5

out of

5
by
Kowo
from
Amazing!!
I bough this watch last year and I LOVE it. I love fossil and they are reasionably priced!
Date published: 2014-05-15
Rated

5

out of

5
by
Ashu111
from
Looks and feels awesome
looks neat.. however to answer few of the above questions, middle and the left inner circle for Stop watch , and the right inner circle is for time in 24hrs format :) Ex: If it is evening 5:00PM Inner right circle arrow should be pointing to 17.
Date published: 2014-03-21
Rated

4

out of

5
by
ShadyFan
from
Love the watch!
My girlfriend gifted me this watch and it looks great! I'm only worried about the durability of the strap. @yellowrose, the dial on the right is a 24 hour clock, the dial on the left and the big one below are the minutes and seconds dials respectively for the chronograph/stopwatch.
Date published: 2014-03-01