FS4357 - Dress Chronograph Stainless Steel Watch – Brown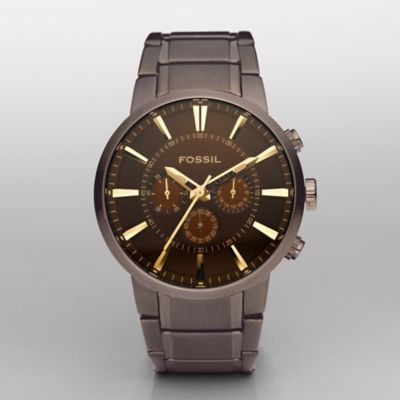 The perfect travel companion. A large brown dial features three sub-dials, combining functionality and modern style. Light stainless steel ion-plated case and contour bracelet fit snugly and comfortably. This Dress watch also features a chronograph movement.
Dress Chronograph Stainless Steel Watch – Brown
is rated out of
5
by
8
.
Rated

1

out of

5
by
Christova1984
from
Not working
I bought this watch at a Macy's.  I really liked the size, color, etc... After owning the watch for about 15 minutes, I noticed the date was wrong and tried to set it. The date would not change, it was broken. I took it straight back to the Macy's counter I purchased it at and they had another one that I was hoping to swap out for. When they pulled that one out of the display case, I tried to change the date and that watch was broken too. Now before you think that I am dumb and was probably doing it wrong, I wasn't. Both the lady who originally sold it to us and the manager agreed they were both broken. They offered to order me one because they only had those two, I said no because there is definitely something faulty if both of their watches are broken, I did not want to have to return yet another watch. Looks great, but something faulty with the  mechanism or terribly poor quality control.
Date published: 2013-11-16
Rated

5

out of

5
by
Papi
from
Love my watch!
I got it for my birthday its simplistic and useful functions make it the perfect watch to match my understated, simplistic, and solid personality. AWESOME!
Date published: 2012-01-09
Rated

5

out of

5
by
Euphrentic
from
Beautiful
I pinned over this watch for 6 months before it finally seduced me into buying it. The case is rather thick but not uncomfortably so. I get more complements on this watch more than any item i own.
Date published: 2011-04-11
Rated

5

out of

5
by
brickboy76
from
Best watch EVER!!
My wife just brought me back this watch from her vacation. I was speechless....yet CANT stop braggin to everyone on how BEAUTIFUL it is!! The huge face is so awesome!! The color/metal is so gorgeous and flattering....the picture online DOES NOT DO IT JUSTICE!! I've never seen a watch that i've loved so much before. I would recommend it to EVERYONE that wants something different, something that can go casual or formal and elegant. The watches book got lost so however, I'm unsure on just what some of all the other little dials and buttons are for. Can anyone help? I'd much appreciate it....maybe FOSSIL can mail me another....I'M DIEING TO KNOW all it's cool little gadgets!! GET IT....promise you wont be dissappointed!
Date published: 2010-03-29
Rated

5

out of

5
by
pacmic
from
it has a big face that love and the color looks amazing
Date published: 2009-12-26
Rated

5

out of

5
by
lisa
from
not yet but soon
I have been loooking at this watch for the past 7 months. I was hoping to get it as a birthday gift....but it never happened i will own this fossil by the end of the year BET THAT!
Date published: 2009-11-20
Rated

4

out of

5
by
headpead
from
size matters
my god it's huge! this was my first impression when i took it out of the box. i chose it online and a friend of mine brought it over from Paris, as it is not sold on all markets. looking at the pictures i never suspected it being a monster of this size, but on the other hand - it looks magnificent and i am already to getting used to it.
Date published: 2009-11-02
Rated

5

out of

5
by
PRAKASH
from
First look
Man, i was attracted at the first look of this particular model no.FS4359. as shown on the screen ; but mine is in silver. I just paid the sum and got the the thing. It,s teriffic but it;s not scratch proof ....gosh it was///....if it was i am willing to pay more...no limit..
Date published: 2009-10-17