FS4736 - Grant Chronograph Stainless Steel Watch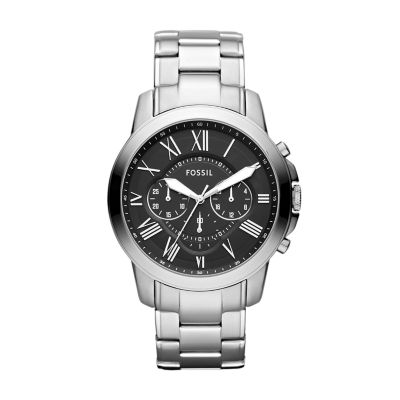 Inspired by the simplicity of vintage timepieces, our Grant watch has a classic appeal. We love the polished stainless steel and roman numeral indexes. This Grant watch also features a chronograph movement.

*Modeled after vintage clocks, our Roman numerals are uniquely designed to provide artistic balance to the dial. In order to create a sense of depth, we also layered the sub-eyes over the numerals, which gives them the effect of being cut off.
Grant Chronograph Stainless Steel Watch
is rated out of
5
by
10
.
Rated

3

out of

5
by
watchcollector22
from
Beautiful Watch but very bulky
I got the watch in November and it was a beautiful watch and everybody gave me complements on it. Yeah, if they felt how heavy this watch was, maybe they would change their mind. Not only that, the band is way too wide. But, I do have small wrists though. It's a beautiful watch, but the weight just bites!!!
Date published: 2014-04-18
Rated

5

out of

5
by
richpsu
from
Watchwearer - Review unbased in fact.
I'm a casual wearer of watches and almost didn't purchase the watch because of "Watchwearer's" previous review citing the "IIII" being an error in manufacturing. Upon doing a bit of research, I found that many watch and clock makers have used "IIII" as the roman numeral for "4" for many, many years and is considered an acceptable and recognized practice. If you quickly Google a watchmaker who charges $1,000's for their watches, you'll also see the "IIII" for 4 on their timepieces as well. Glad I didn't heed the inaccurate review and am excited about my purchase!
Date published: 2014-03-19
Rated

5

out of

5
by
DeereBoy
from
LOOKS GREAT ON ME
I bought this on a wim on a cruise boat and thought it had a great look with out costing too much.
Date published: 2014-02-23
Rated

5

out of

5
by
watchlover14
from
Love the watch!
I had my eye on this watch for months before I finally bought it! It has been a few months since then and I continue to get compliments on it :) For all you who aren't sure how it works, when looking at the watch starting right to left there is a 24 hour clock, then a second hand counter down below, and a minute hand counter for up to 30 minutes. If you push the top button once it will start the second hand down below, and after 60 sec will put a minute on the minute counter. You stop the stop watch by pressing the top button a second time, and when you are do you can reset it with the bottom button. The watch also has an eleven year warranty in the U.S. and Canada. The sales people were really insightful
Date published: 2014-02-20
Rated

4

out of

5
by
Utahsifu
from
New fossil can't Work it
Love the watch but there is no book to know how to use all the goodies
Date published: 2014-02-16
Rated

4

out of

5
by
IslanDre
from
Clean Minimalist Watch
A watch that just looks good. Solid feel to it. Water Resistant (enough to shower in and for shallow waters). Perfect for my day to day use. For me it's missing the date to get 5 stars. But all in all, amazing watch.
Date published: 2014-02-07
Rated

1

out of

5
by
Watchwearer
from
Disappointed
You'd think the company that sells a watch for $100+ would take the time to create a good design, especially with the numbers they put on the face. Â The roman numeral for "4" is not "IIII", rather "IV". Â It bugs me every time i have to look at this watch
Date published: 2014-01-25
Rated

5

out of

5
by
Katrina
from
Great
I bought this today for my boyfriend and it's great and so nice. Matches with anything and perfect. Cool gadgets as well.
Date published: 2013-12-29