ES2811 - Riley Multifunction Stainless Steel Watch - Rose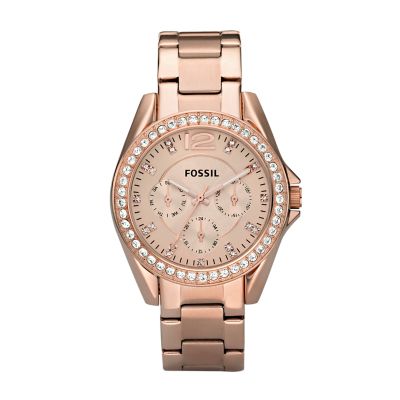 Our signature Riley style with a 45-stone topring, features a rose gold-tone finish and a textured rose dial. This Riley watch also features a multifunction movement.
Riley Multifunction Stainless Steel Watch - Rose
is rated out of
5
by
16
.
Rated

2

out of

5
by
girl
from
Nice looking watch but tarnishes very quickly
I bought this watch not even a year ago and it has already tarnished on the sides. The color has worn off and it is turning a silver/black color. For the price, it should last longer. The quality on this watch is poor. Other than that, it is a nice looking watch which I like. I would not purchase another fossil watch in the future.
Date published: 2014-07-13
Rated

5

out of

5
by
KateO
from
Great purchase!
I bought this watch 6 months ago and I still am so happy that I did. I was nervous to purchase since I read reviews that stated the color wore of- even after only 3 days! Well, this has absolutely not happened to me. I do sit at a computer at a desk so my watch rubs all day, after 6 months I can see just a small corner of the color wearing off the band, I would consider this normal wear and tear since it has lasted so long and you can barely notice it. The face of the watch and the rest of the band are still as beautiful as when I first got it… Love it!!
Date published: 2014-07-11
Rated

1

out of

5
by
adminasst
from
Should not have purchased
Bought this as a Christmas present for myself. Have worn it for 3 months. The rose gold color is wearing off on the part of the watch that comes in contact with my desk, table, etc. And the rose color is actually changing into a regular color!! I am really annoyed, thought I was getting a great watch for a good price (still not cheap). Should have gone with a better brand.
Date published: 2014-04-01
Rated

5

out of

5
by
ireallyloveglitter
from
Eye Catching
This watch is just as beautiful in store as it is on your wrist. I usually find that the jewels in stores look great inside, but lose their luster outside of the perfect lighting. This watch doesn't disappoint. I get compliments all the times from both men and women for how eye catching it is.  The Rose color is great because its sits on the perfect border of being neutral and bold at the same time. It has become my staple accessory. The watch is also super comfortable! It's light enough so you barely notice it, and heavy enough to feel like a quality item. Bonus: The girls that adjusted my watch for me were all sweethearts! Every time I go in, they are very friendly. And that's at every location, not just my local store. 
Date published: 2014-01-03
Rated

5

out of

5
by
Mvbe
from
Best Decision Ever
I was looking to buy a watch for my 21st birthday and knew I wanted a rose gold watch. After looking at tons of options I just fell in love with this one. The face fits perfectly on my wrist and I was able to take the right amount of links out so it fits nice and snug on my wrist. Ive  had it for 3 months now and it still looks brand new. I am definitely already looking to buy another one of these!! I just want to buy them all!
Date published: 2013-11-12
Rated

5

out of

5
by
deb1
from
BEAUTIFUL
I love watches and have collected some very expensive ones over the years. I was passing by the watch counter in Macy and it just stood out among the rest. It is so well balanced on the wrist which is very important to anyone who loves to wear different watches. I love the rose and silver tone and the face surrounded by the crystals is just enough. This watch has class written all over it.
Date published: 2013-10-07
Rated

5

out of

5
by
LoveMyLook
from
Modern, Sexy, Brilliant!
My boyfriend got me this watch for Christmas, I tried it on over six months ago so just that he remembered how much I loved it was awesome. This is my fourth Fossil watch I love love love this brand, there is always something for everyone. I also love how well you merchandise your stores, made falling in love with this watch that much easier. Thank you Fossil for getting my personal style right, as well as many other.
Date published: 2011-12-30
Rated

5

out of

5
by
fossilladdict
from
Gorgeous
I received this watch for christmas from my boyfriend. I am not a fan of gold tones but this is fabulous! The rose gold is the perfect touch of very toned down "yellow" gold. I never would have looked at this watch because of the color but I am glad that he bought this for me. I will be buying rose gold from now on! Thank you Matthew.
Date published: 2011-12-28