SL4435 - Sydney Bifold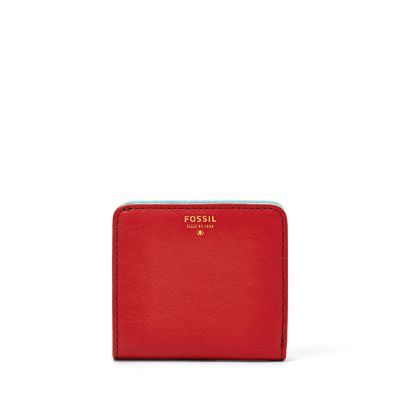 In smooth leather with a pop of contrast trim, our Sydney bifold is a stylish essential, complete with plenty of pockets.
Sydney Bifold
is rated out of
5
by
7
.
Rated

5

out of

5
by
chloedelane
from
Love it!
I've had this wallet for about two months now, and I'm extremely happy with it! Yes, the pockets were extremely tight when I first got it, and that definitely concerned me -- but the pockets stretch with time, and now they're perfect! I didn't need something with a ton of space; all I really carry is my student ID, debit card, metro card, license, and insurance cards, and it all fits perfectly, with a few pockets to spare! I also love that it doesn't get bulky, even with a few bills and some change. So happy with this!
Date published: 2014-10-10
Rated

1

out of

5
by
rachell
from
Card pockets ripped
I bought this item about an hour ago and was so excited to start using it--I've been looking for a compact wallet for while, now! As others have said, it's a tight fit for your cards, and the fabric lining the card slots ripped badly when I was trying to put my cards in (and I only had one card in each slot, I was not over-stuffing it). Obviously I'm going to be returning it, but I wish this wasn't the case! :(
Date published: 2014-07-06
Rated

5

out of

5
by
_osoahc
from
Love mine!
I have this wallet in blue with gold on the inside, and I just love everything about it. It's just the right size, as I can fit all the cards I need (currently 3 credit cards, gym card, drivers license and a couple business cards) in addition to the little cash I sometimes carry. The leather is really soft, and although I agree the inside pockets were too tight when I bought it, they stretched after a bit of use. I use it every day and it still shows no sign of wear after a year. The coin-pocket is a bit on the small side, but I hardly ever have coins so that doesn't bother me.
Date published: 2014-06-06
Rated

2

out of

5
by
njwski
from
Tight Squeeze
I love the feel of the exterior leather and the array of color combinations available in this style, and the fact that there's a small pocket for change... but I returned my wallet almost immediately after purchase. I spent about 5 minutes trying to shove my credit card into the right side pockets, and then another 5 trying to wriggle them free again. I wanted to like this as I'd love something smaller to slip in my back pocket and just generally lighten my load, but I've never had a wallet (even Fossil wallets) that required so much effort. It was such a tight fit that I couldn't imagine it improving much with time and me not grumbling every time I tried to use it.
Date published: 2014-05-13
Rated

5

out of

5
by
JoyB
from
Perfect Size and Function
This wallet serves it's purpose and fits in my pocket when needed. Yes, as one reviewer mentioned, the pockets are tight. But don't worry, these stretch with time.
Date published: 2014-04-29
Rated

1

out of

5
by
Ggigi19
from
Pockets are Too Small
I have been using Fossil wallets for the past 20 years. The first one I found was compact as this one but had the clear ID pocket on the outside which was great at airport security because I didn't have to open my wallet and risk anything falling out. The first one was not square but rectangular. Also, the inside pockets on this one are too tight, you can barely fit one card inside the pockets so it's a major headache getting the cards out, once you get them in the pockets. I wish they would remake the original compact wallet for those of us that don't carry a million credit cards, but still want to have room for the essentials. Lucky for me, when I find something that works I stick to it, so when I purchased the original one, it worked so well, that I went back and purchased 3 more, so that's why I was able to use my Fossil wallets for so long, until now.
Date published: 2014-03-28
Rated

5

out of

5
by
cyndi22
from
The perfect "tiny" wallet
Bought this today as I needed something that I can just throw a couple of cards and some cash into when I am on vacation as I hate carrying around my huge wallet with all my cards that I don't need! It's the perfect size to slip into your pocket too for those times you don't carry a purse or handbag!
Date published: 2014-02-17