ES1967 - Stella Multifunction Resin Watch - White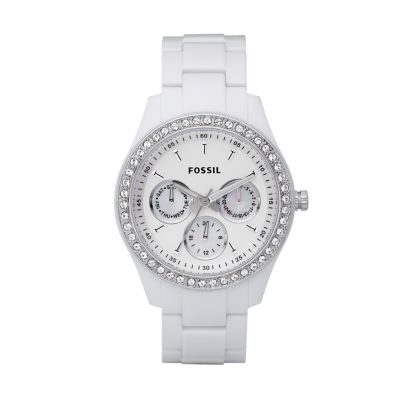 Our boyfriend-inspired Stella watch is part of our all-time favorite collection. With a white acrylic bracelet and a sparkling crystal topring, this eye-catching timepiece will look great on any wrist. This Stella watch also features a multifunction movement.
Stella Multifunction Resin Watch - White
is rated out of
5
by
58
.
Rated

5

out of

5
by
PhxGirl16
from
Best Watch Ever!
My husband gifted this watch to me 4 years ago and it still looks new! I am obsessed with this style watch, the white color, and the fact that the face of the watch is not too big. I wear to work regularly (I'm a nurse) and have had no problems with it. All stones are in place, it stays clean and white, and I just had to replace the original factory battery last month (it lasted 4 years)! Like some other reviews have said, it does get some sort of black residue where the hinge is but it is on the underside of the watch so it never gets seen, not a big deal! I highly recommend this watch to everyone!
Date published: 2014-09-17
Rated

5

out of

5
by
DWare
from
My favorite watch ever
I received this watch as a Christmas gift 2 1/2 years ago. I wore it everyday. I was very active. I never had any stones fall out until I dropped it. Then a couple more fell out. But I think it was due to me dropping it the first time. I plan on replacing it soon.
Date published: 2014-06-11
Rated

5

out of

5
by
Angel123
from
Great Watch to be tied up with!
My husband gifted me on my birthday 2 years back and its still awesome. Has never let me down. This watch changed my opinions of some of the other watches that I had previously.
Date published: 2014-05-26
Rated

5

out of

5
by
Marianetta
from
Durable
I was gifted this watch 2 years ago and have worn it nearly every day since then. I've exposed it to extreme heat (unintentionally), I've worn it through some of the coldest winters that strike the midwest, and it has endured several falls and strikes. Yet, it still looks as good as the day I received it! None of the crystals have fallen out as mentioned in other reviews, although a little bit of a black residue has built up around the hinges that is very hard to clean, but isn't noticeable. Overall, I love this watch!
Date published: 2013-11-25
Rated

5

out of

5
by
Mirela
from
The best
I bought this watch more than one year ago...and I'm wearing it everyday. In this moment it's the same like in the first day:X I just love it...
Date published: 2013-11-10
Rated

5

out of

5
by from
Just Perfect! <3
This watch is the most perfect simple, elegant, and beautiful watch ever :) I get compliments on it all day long when I wear it. 
Date published: 2013-09-28
Rated

5

out of

5
by
michellelovesapples
from
Pleased with my new Watch
I have wanted a fossil watch for quite some time. I was very disappointed to find out it had a plastic wrist band. Until..... I wore it. It is the most comfortable band I have ever worn. It does not sweat and stays still on my wrist. It does not slide around at all. Another thing I am impressed in, it does not show wear at all. I wear this watch daily at work and it is fancy enough to wear when I go out in the evening. I would be pleased to recommend this watch to anyone. Well worth the money!
Date published: 2012-04-06
Rated

4

out of

5
by
Trumpeter
from
The face on this watch is absolutely beautiful. It's very clean-looking and a wonderful addition to any outfit. Now, what I'm unhappy about (and I'm not a very picky person at all.) is the band quality. The plastic is very cheap looking and while I don't think the band is awful it just doesn't do the face justice in my opinion. I guess I was looking for something that looked a little bit better given the price. Unfortunately you can't really see what the band looks like until you've ordered it or seen it in stores. Regardless I still think my mom will love it since I got it for her birthday. (:
Date published: 2012-03-22