FS4735 - Grant Chronograph Leather Watch - Brown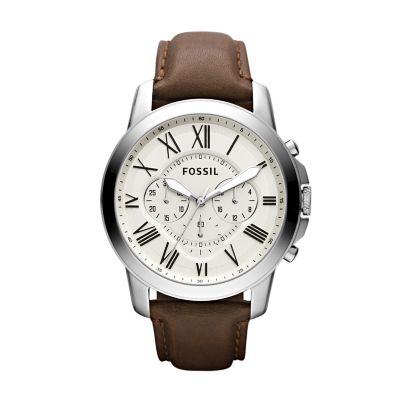 Inspired by the simplicity of vintage timepieces, our Grant watch has a classic appeal. Roman numerals set against a cream dial make this an irresistibly stylish piece. This Grant watch also features a chronograph movement.

*Modeled after vintage clocks, our Roman numerals are uniquely designed to provide artistic balance to the dial. In order to create a sense of depth, we also layered the sub-eyes over the numerals, which gives them the effect of being cut off.

For this interchangeable design, check out all compatible 22mm watch straps for this design, or see all of our interchangeable watches for more styles and colors.
Grant Chronograph Leather Watch - Brown
is rated out of
5
by
23
.
Rated

5

out of

5
by
Greenmonstah1901
from
Great looking classic watch
This is a very nice classic watch. It's not overstated yet its not understated either. The roman numerals, which are all correct (some people thought the 4 and the 9 were incorrect) add a sleek and clean cut look to it. The leather band if not too thick or bulky. It looks great with sweaters, suits, polos, pretty much everything. I've gotten many compliments on it and I will soon be purchasing the same one in black for my black and white neutral colored outfits. I saw a review on here that said the 4 and the 9 are incorrect. This is not true. The roman numeral for 4 used to be IIII and is used today in determining how old an antique grandfather clock is. It was changed a while back to IV but IIII is still correct. And the 9 is also correct. One of the three tachometers cut off the roman numeral so it looks like IV but it's actually IX.
Date published: 2014-09-02
Rated

3

out of

5
by
kchris
from
Beautiful look, faulty gears.
I just received this beautiful watch in the mail today and was so excited by the looks of it. Everything worked perfectly until I tried setting the date. I can hear the gear ticking but it will not move the date from 30. I also want to note that the color of the face is actually a little yellow (instead of the pure white the picture shows) but I personally like that look.
Date published: 2014-08-19
Rated

5

out of

5
by
Matt8667
from
A great subtle look.
I purchased this watch around a year and and have gotten nothing but positive compliments. The classic yet subtle look just wears well with almost anything. The face displaying in numerals just adds that little extra something.
Date published: 2014-07-13
Rated

5

out of

5
by
Aintno2dwaynes
from
Very Nice Timeless Watch
I bought this watch a few weeks ago and honestly, it's currently my favorite watch. It looks amazing online, but it looks even better in person on my wrist. It's subtle yet somehow it stands out and everyone compliments it. Definitely a must-have in any watch collection.
Date published: 2014-06-21
Rated

5

out of

5
by
Timepiece999
from
Classic looking watch
As to the Roman Numeral issue, the 4 (IIII instead of IV) holds historical backing as the a standard form of usage for the number 4. Reference: http://blog.fossil.com/the-story-of-iiii-not-iv/ Also, the 9 is actually correct. It is just cut off. It is definitely IX but the style of the watch cuts it in half making it appear as a IV. You can tell it is an IX and not an VI because all the V's on the watch point from the parameter of the watch while the X is open on the top.
Date published: 2014-04-22
Rated

5

out of

5
by
Houdini21
from
Great all around watch
I received this watch as a gift(even though I picked it out) and am quite pleased with it. The bands, even before getting broken in, feel better than most watches in the same price range. They also have more than enough sizing options to fit probably 99% of the population. The face of the watch, in my opinion, is a great size. It is large enough to be noticeable and to have a good proportion to most wrists, but not so large that it is uncomfortable or gaudy. Has a nice high quality feel to it without being really expensive. As far as the numerous reviews concerning the numbers...look closely at the watch. I believe there was 1 other person that addressed this correctly. Yes, the 4 is not how you would typically think of it in roman numerals, but it is still an acceptable way of writing it. The 9, however, is written correctly. If you look closely, there are a couple indicators that it is written as IX. First, the V is upside down compared to all the other Vs. Second, the line that is more bold carries through past the bottom of the V. All that to say, the 9 is written as IX, but the chronograph feature cuts off the bottom.
Date published: 2014-04-22
Rated

5

out of

5
by
JamesHank
from
Wonderful watch
I bought this watch quite some time ago (can't remember when exactly). Since then it is yet to fail me. I've had countless compliments on it as well. Pros: Nice stop watch feature "24 hour" hand Easy-to-interchange band (just 2 releases and the band is off without any tools) Cons: While the 4 on the dial is a traditional clock Roman numeral (IIII instead of IV) I haven't found any evidence in my research that supports using IV for 9 instead of IX. To be honest I believe it just may have been a mistake. Nonetheless it's a beautiful watch and I didn't even notice the incorrect 9 until it was pointed out to me by these comments. You get a great watch for a reasonable price. Definitely worth purchasing.
Date published: 2014-04-19
Rated

5

out of

5
by
Parth
from
Brillianto
A perfect watch at a reasonable price. IV crafted instead of IX is not a big issue. Aamazing watch
Date published: 2014-03-31