Our friends from the LGBTQIA+ community
speak up about Pride, pronouns, allyship
and more. #TakeAMinute to learn and act.
Our Brand
Partner Voices
Why Does Community
Matter To You?
Life isn't always easy and unfortunately, not everyone is accepting and kind. But having a core group of people to lean on makes all the difference.
Alex + Mike | @alexandmike | he/him
What Actions Would You Like
Your Community To Take To Show
Better Support?
I would love to see more consistent hiring
and engagement with my community.
Allyship during Pride means nothing if that
enthusiasm with which people attend our
parades does not extend to the voting
booth. If you only love us in June, then you
don't love us at all.
Blair Imani | @blairimani | she/her/hers
What Are Your Pronouns And Why Are
They Important To You?
I use they/she/he pronouns
interchangeably. Pronouns validate,
acknowledge and honour my non-binary
identity, my gender expression, and how
I want to show up in this world.
Plantkween | @plantkween | they/she/he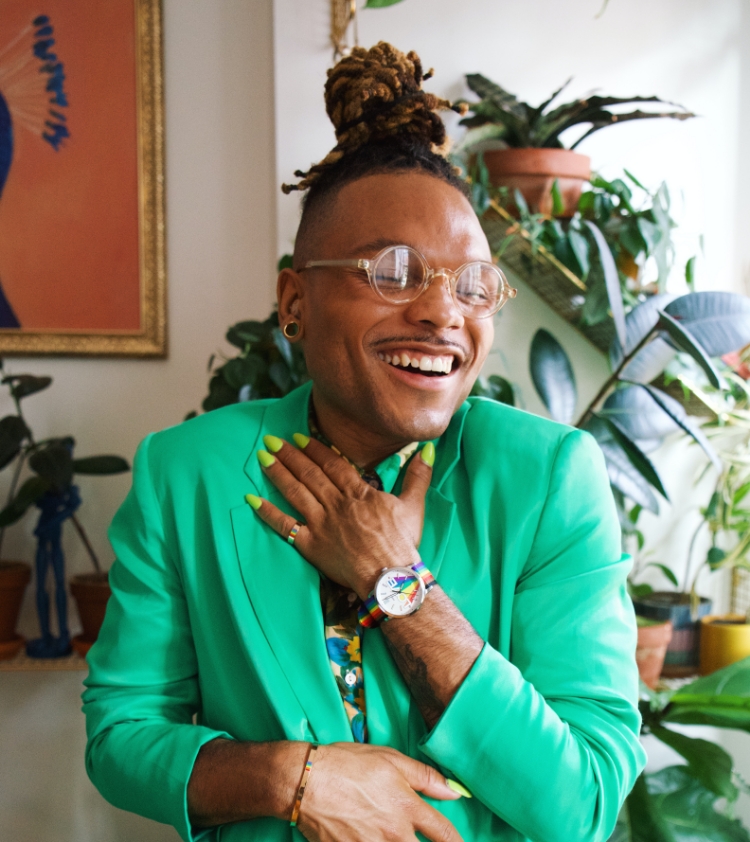 What does allyship look like to you?
1) Decentring yourself. Focus on the
community that needs to be heard and listen
to the message that needs to be spread
rather than what the ally thinks should be
said/spread.
2) Genuinely BELIEVE PEOPLE. No one needs
to be questioned, no one needs to be told
that they are in a phase, no one needs to be
made to feel like they aren't believed!
Jazzmyne Jay | @jazzmynejay | @thiiiiktok | she/her
Our Employee Voices
What Does Allyship
Mean To You?
For me, allyship to the LGBTQIA+ community looks like people who aren't a part of it stepping up and supporting a community that is often marginalised and doesn't have their voices heard all the time.
Mathieu Hodnett | Social Media Marketing Specialist | he/him
How Do You Show Up For
The LGBTQ+ Community?
I am the person who is always listening. Many people in the LGBTQIA+ don't feel heard or seen, so it's important to have someone who is going to be there for them. Being that person they trust means a lot to me.
Jennifer Briggs | Instructional Designer | she/her
What Are Your Pronouns And
Why Are They Important To You?
I use they/them pronouns because I feel like that encapsulates my journey, where I come from, where I'm going, and where I'm at right now. I use they/them pronouns because I identify as trans masculine and non-binary. I like pronouns that straddle the middle of the spectrum.
Elysam Raib | Stores Operations Coordinator | they/them/theirs
Fossil Group is committed to protecting, supporting and elevating the voices of
the LGBTQIA+ community at the workplace and beyond. We have been
nationally recognised as a safe place for our LGBTQIA+ employees.
100% of the proceeds from the sale of the collection will benefit
The Trevor Project through Pride Month*.
SHOP THE PRIDE COLLECTION
*June