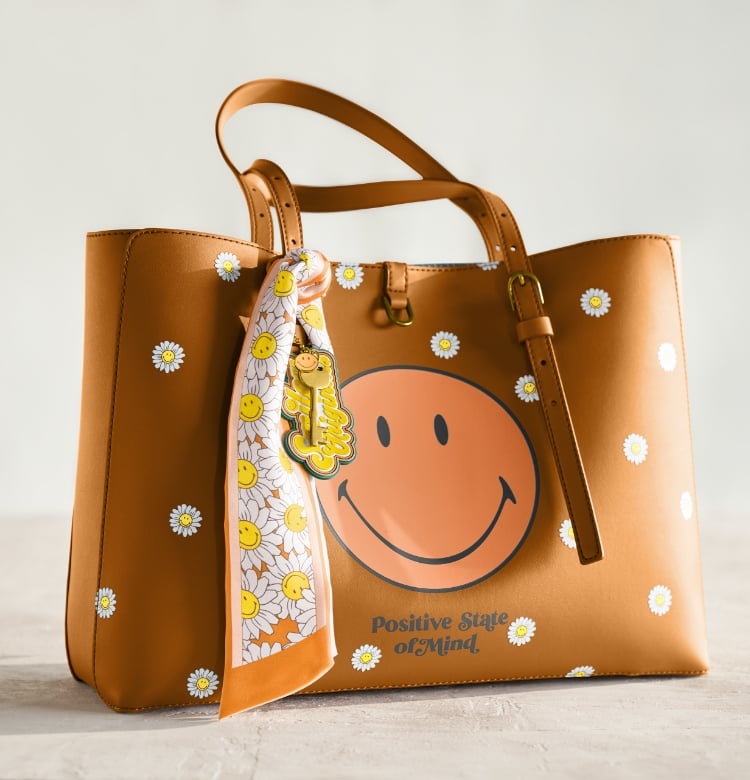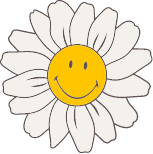 Inspired by the playfulness and positivity of the brand, the collection features Smiley's mantra POSITIVE STATE OF MIND on the bags and their linings.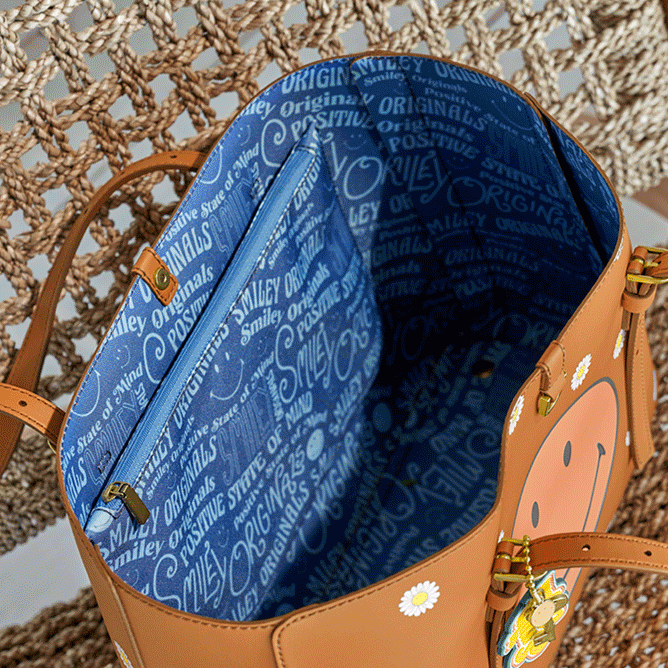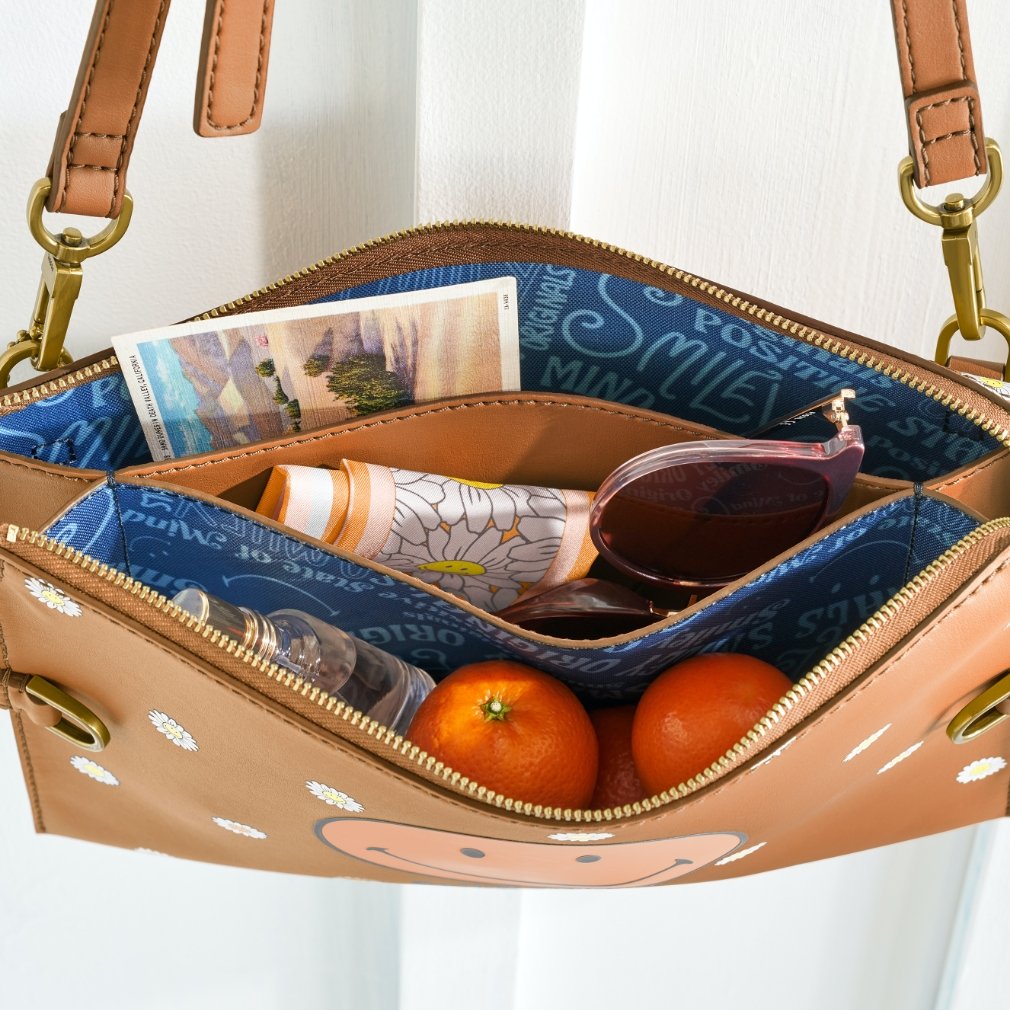 The tote includes a key fob and a removable denim pouch.
The crossbody includes a key fob and a triple compartment to carry your essentials.
Both bags feature a REPREVE® recycled polyester lining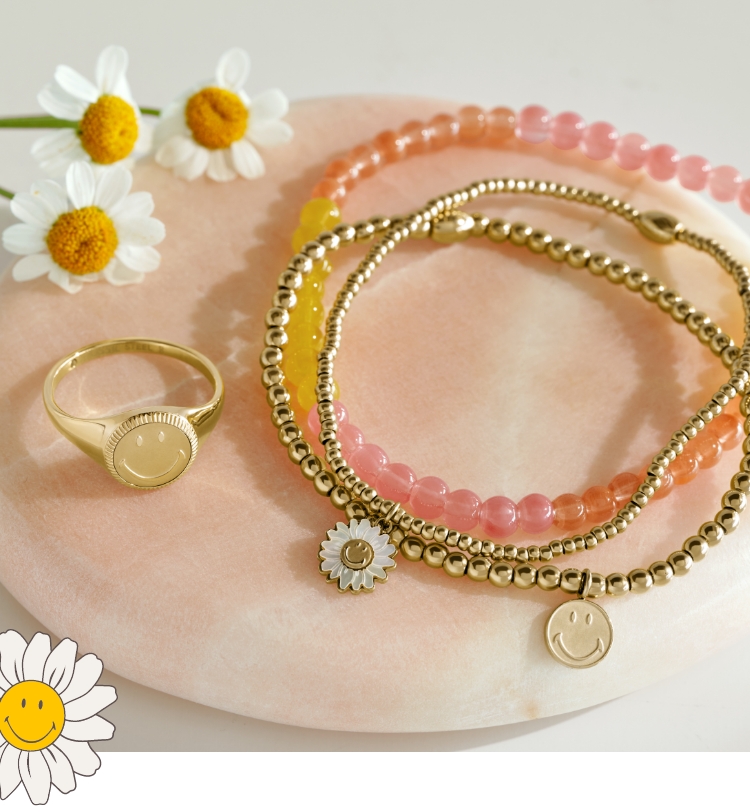 Glass beads and white mother-of-pearl daisies lend a modern look to these playful jewellery pieces.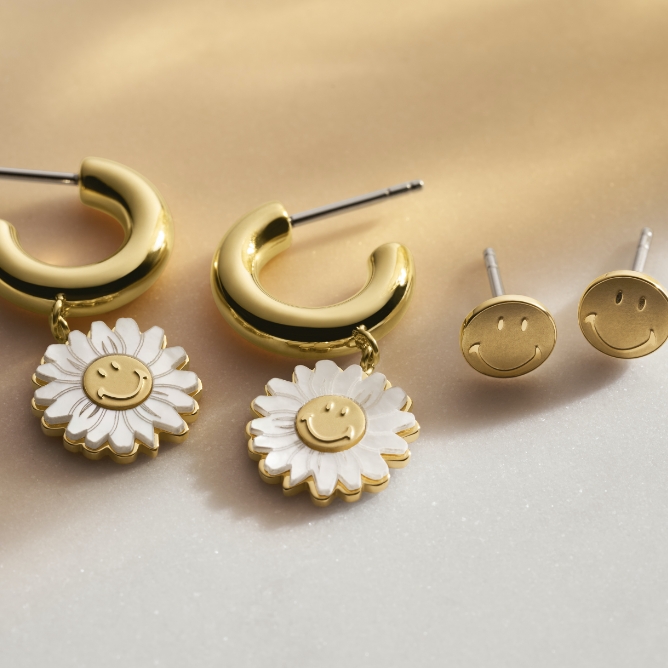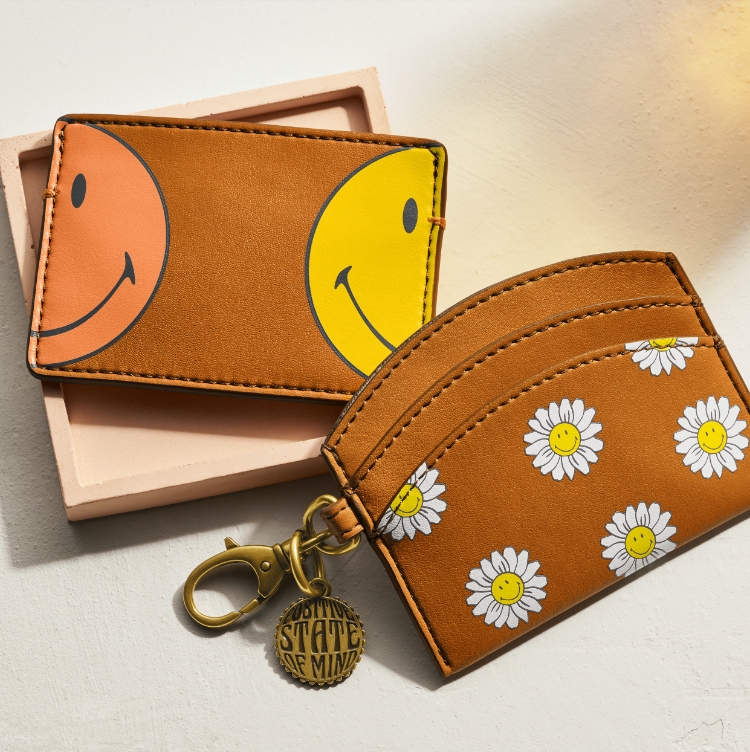 Fossil x Smiley®: Unlock a New Level of Joy
If you're never fully dressed without a smile, our Fossil x Smiley® Jewellery, bags, wallets, and accessories are here to help you put the finishing touches on your look. Celebrating 50 years of defiant optimism, Smiley® and Fossil have teamed up to bring you joyful accessories sure to spread sunshine and good vibes. Whether you're more familiar with the 70s Smiley® face or remember the 1990s Smiley® face fashions, we know you love the bright and cheerful Smiley® that's been encouraging people around the world to cultivate compassion, express more gratitude, and share more love and joy to those around them. Making time for good doesn't have to be overwhelming, time-consuming, or expensive – it can be as simple as sharing a smile with a stranger to brighten their day. We've partnered with Smiley® to design your favourite Fossil products with a happy twist. From men's and women's Smiley® Jewellery to backpacks, handbags, wallets, and even a Smiley® face flower key chain, we're ready to help you spread more positivity and joy to the world. Shop this unique collection today and join our exclusive email list for future collabs and begin making a difference by sharing a smile.
Smiley® Jewellery for Every Style
When you're looking to accent your summer styles, look no further than our selection of Smiley® Jewellery. Our Smiley® face necklaces for men and women add a touch of joy to any outfit and can be easily layered for a multi-dimensional look. Ladies, you'll love our happy Smiley® face earrings – available in stud and drop designs – that easily match your everyday Jewellery staples. Our men's Smiley® Jewellery gives you cool Smiley® face style that's subtle yet bold. You'll love our blue beaded bracelet and gold disc Smiley® face charm. This bracelet, along with our dog-tag style men's Smiley® face necklace, makes it easy to achieve masculine style that's just right for every day. Our women's Smiley® face bracelet stack features a pop of colour you can't resist. Gold, pink, and yellow beads and Smiley® face charms adorn this happy bracelet stack so that it always stands out and goes perfectly with your favourite gold-tone watch. Add one of our matching Smiley® face necklaces and you're all set to spread joy and positivity to those around you. After all, that's what Smileys® are for; that's why they've been relevant to every generation since its inception in the 1970s. The Smiley® face symbol represents hope in the middle of your trial, friendship to those in need, and a ray of joy when people feel lost. As a member of the global community, it's our job to help spread joy and good vibes to those around us and start a chain reaction that reaches around the globe, and the original Smiley® face is our way to do that. So whether you prefer a cute Smiley® face ring or a retro Smiley® face necklace, we're here to help you share your smile with the world.
Smiley® Bags & Wallets Designed Just for You
If you're looking to expand your Fossil x Smiley® collection beyond Jewellery, you'll love our assortment of Smiley® face backpacks, bags, and wallets. Like the Smiley®, these bags and leather accessories fit in anywhere and are sure to brighten up your day. Our Smiley® face bags are also sustainably made from cactus leather to cut down on emissions and protect our planet. Our Smiley® Kier tote features a removable contrasting Smiley® denim pouch and signature keyfob so you can go big or small depending on your day. Our Kier crossbody Smiley® face bag features a cheerful daisy print and triple compartment for storage so you can maximize your organization without switching to a larger bag. Our Fossil x Smiley® collection also features a unique Smiley® denim crossbody bag that's perfect for casual looks. All of our Smiley® face bags pair perfectly with our Smiley® face wallets. Available in card case, bifold, and zip wallet silhouettes, these Smiley® face wallets are perfect for your unique taste and feature pops of colour, Smiley® face flowers, or monochromatic prints to suit your style.
No matter how you choose to share your smile – with Smiley® Jewellery, a Smiley® face flower bag, or Smiley® wallet – Fossil has what you need to inspire others to embrace their positivity and share their joy.