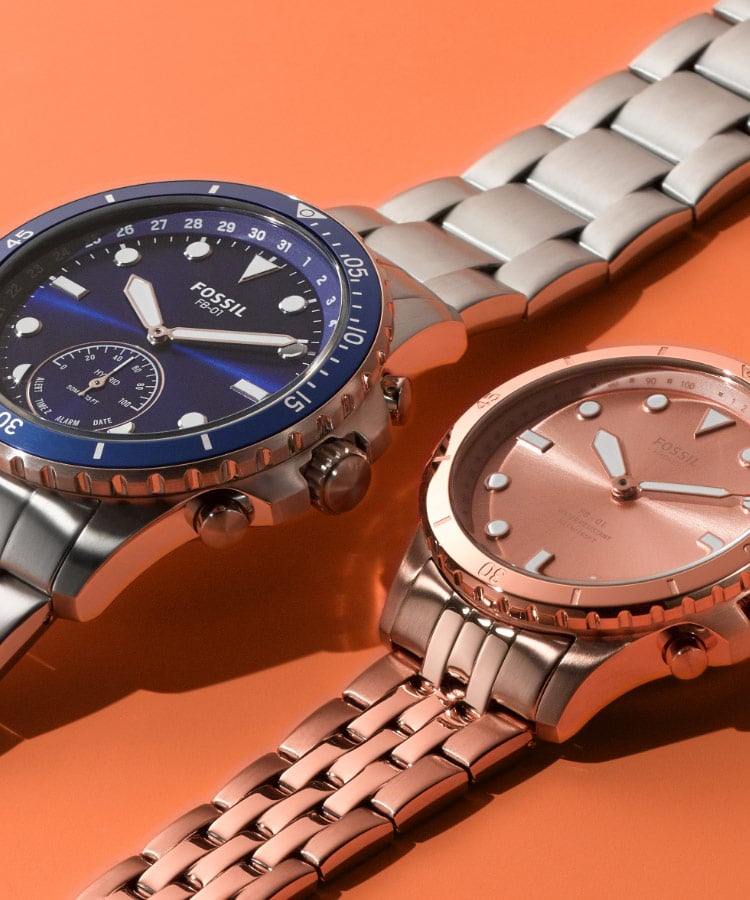 The
Hybrid Smartwatch
Looks like a watch. Acts like a smartwatch.
SHOP NOW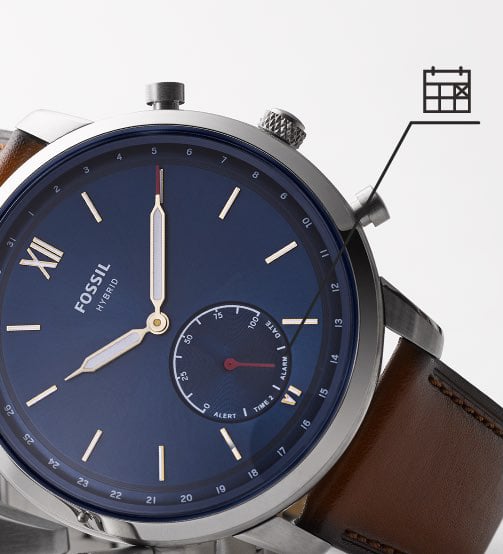 Stay
in touch
Receive texts, calls and social
messages straight to your wrist.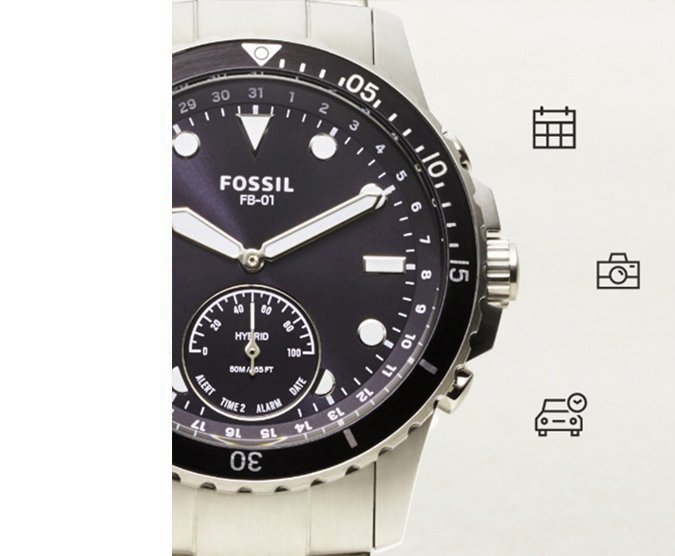 Pick your
presets
Ring your phone, check the date and more –
assign a function to your buttons.


No charging
needed
Our battery powered smartwatch keeps you connected, no charging needed (ever).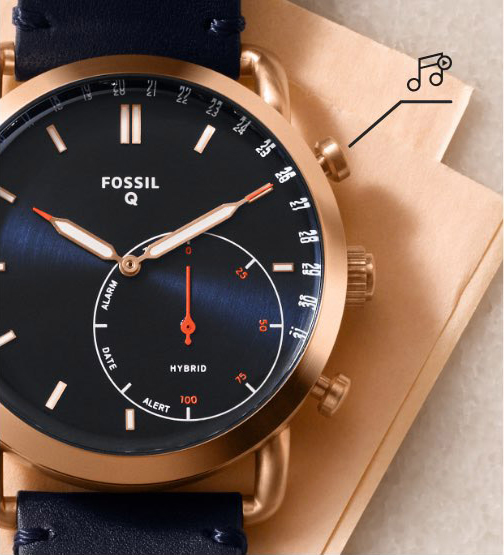 Control
your music
Control your volume, skip a track and
more – cue your music wherever you are.
Track your
activity
You move and it tracks steps, distance
and calories burned.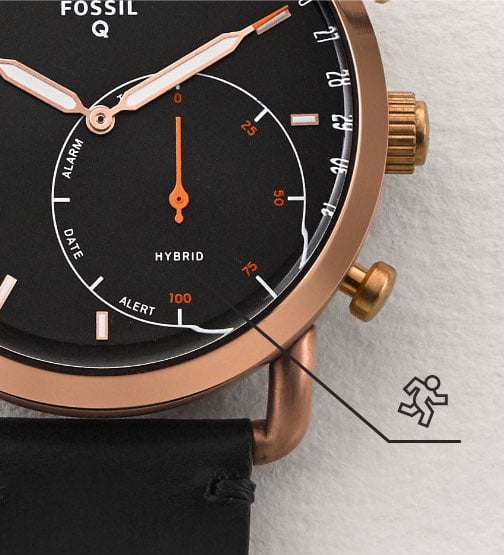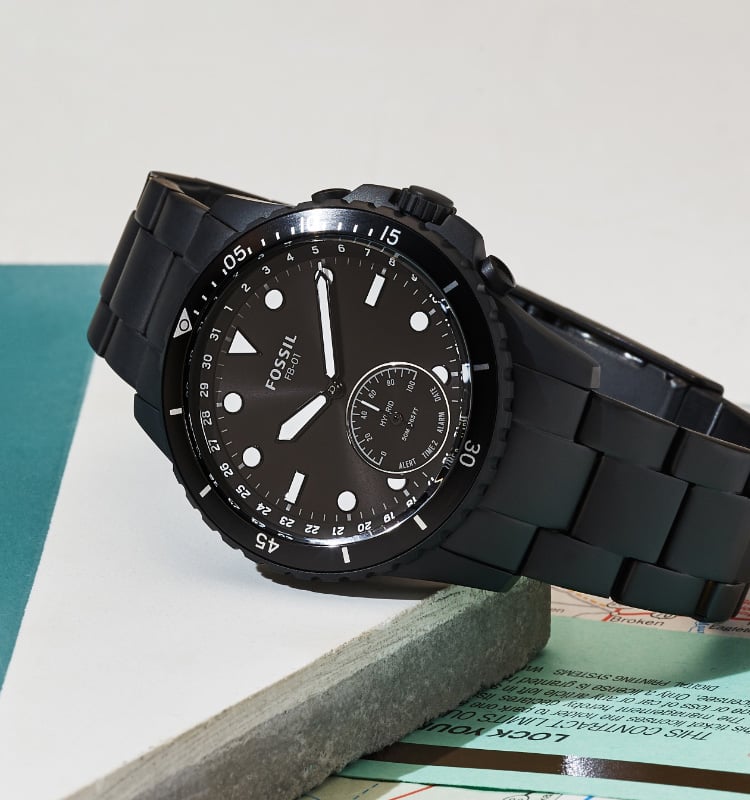 change time zones
Wherever you are, our hybrid instantly
updates to the current date and time.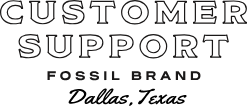 GET SET UP
Learn how to pair or set up your smartwatch,
get answers to frequently asked questions and more.
VISIT SUPPORT
CUSTOMER CARE
CUSTOMER CARE
Hours: Monday-Friday, 8:00 a.m.-7:00 p.m. CT
Saturday, 9:30 a.m.-6:00 p.m. CT
Phone: 866-739-2782
For international Fossil Support phone numbers, please click here.
Hybrid smartwatches are compatible with Android OS 5.0+ or iPhone 5/iOS 9.0+. Supported features may vary between platforms and countries.
Be In the Know With A Hybrid Smart Watch
Be in the know about our hybrid smart watches and learn how they can make your life a bit easier. Prepare to be as connected and stylish as you want to be. Our hybrid smart watches are an eye-catching combination of vintage charm and modern technology. Keep up with all of your important notifications and showcase that classic chronograph look with these exquisite accessories. You'll love the convenience and enviable style of a hybrid watch. They also make great anniversary gifts and birthday gifts for the special people in your life.
Simply sync your smartphone with your watch – our hybrid smart watches operate on Android and iOS – to keep track of your activity, receive notifications and never miss a call or text from your closest VIPs again. Strap on one of these unique watches and go through the day in peace knowing you won't miss a thing. Whether you're sitting in a work presentation, in the middle of your daily commute or in a movie, you won't have to miss out on connecting with those closest to you. Assign each VIP in your life a designated number and watch the dial move to that number when that person calls or texts.
Hybrid Smart Watches Add Unexpected Tech-Based Style
Say goodbye to the hassle of dying batteries and daily charging. Our hybrid smart watches have a six-month life span, allowing you to stay on the go and connected without having to stop and recharge. When you're out with your friends or getting together with family, grab that great group snapshot without having to cram everyone in a small selfie space. Get everyone in place, set up the camera and snap the pic with a click of a button on your hybrid watch. No more unflattering angles for you and your friends with this smart feature. Another great feature is the "ring your phone" function. We've all misplaced our phone and had no idea where to begin looking for it. Before you tear up your home in a frantic search – been there, done that – just press a button on your hybrid watch to ring your phone and help you find it sooner, without all of the fuss.
Jumpstart your fitness journey and give it new life with the tracking feature of our hybrid watches. Track the number of steps around your office to determine the length of your daily workout, or the number of steps you take on vacation. Our innovative hybrid watch keeps track of distance travelled and calories burned as well, giving you a great analysis of where you're crushing it and how to get even better.
Change the Name of the Game with Hybrid Smart Watches
We know you love to stand out and be unique – it's one of the reasons we love you. It's also one of the reasons that keeps us designing watches that help you show off your personal style. Pair your watch with your nicest outfit for formal occasions or with your favourite relaxed look – it easily transitions through the day with effortless ease.
At Fossil, we love designing watches and other products that are inspired by our favourite vintage trends and feature up-to-date innovations. Get the latest looks and redefine your personal style with one of our hybrid smart watches.