Google, Wear OS by Google, Google Nest Learning Thermostat and other marks are trademarks of Google LLC. Wear OS by Google works with phones running Android 6.0+ (excluding Go edition) or iOS 12.0+. Hybrid smartwatches are compatible with Android OS 5.0+ or iPhone 5/iOS 9.0+. Supported features may vary between platforms and countries.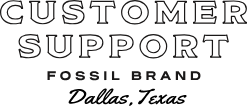 GET SET UP
Learn how to pair or set up your smartwatch,
get answers to frequently asked questions and more.
VISIT SUPPORT
SMARTWATCH CUSTOMER CARE
SMARTWATCH CUSTOMER CARE
Phone: 02 8977 8086 *option 3 for support

Hours: Monday – Friday (excluding public holidays) 9:00AM – 5:00PM AEST
For international Fossil Support phone numbers, please click here.
THE FUTURE OF WEARABLES LOOKS VERY ACTIVE
We may love all things vintage, but that doesn't mean we can't (enthusiastically) embrace new technology too. Meet Fossil smartwatches, our collection of wearable technology. We think of them as a meeting of minds – the fashion-forward mind, the tech-loving mind and the fitness-loving mind.
MODERN WEARABLE DEVICES: WHEN LIFESTYLE, DESIGN AND TECHNOLOGY STYLISHLY COLLIDE
Not too long ago, you had to choose between your need to stay connected to your wearable and the streamlined look of a sleek, traditional bracelet or watch. It's a tough call, but one you don't have to make anymore. We've found that when stylish design and cutting-edge technology meet, it's the start of a beautiful (and smart) relationship. Our smartwatch collection features smart technology styled into wearables that stay in tune with your essential fitness apps. Our smartwatches are compatible with Android and iOS operating systems, yet look the part as your favourite watch or bracelet. Curious yet? This is not your typical smartwatch or activity tracker.
WEARABLE TECHNOLOGY: IT'S WHAT'S ON THE INSIDE THAT (LITERALLY) COUNTS
Never ones to ignore a good challenge, we took on the design opportunities that wearable tech presented us whilst staying true to our core design beliefs. With the collections of wearables that follow, you'll still see the vintage inspiration, beautiful materials and the traditional details we're known for – only rebooted with cutting-edge technology. Easily stay connected with your essential fitness apps and weekly goals. And if you like to change up your style, you're going to love changing up your wearable devices with interchangeable straps and other ways to customise. (We're embracing this evolving smart technology thing in exciting ways!)
WEARABLE TECH THAT WORKS OVER TIME TO HELP MEET YOUR FITNESS GOALS
So you're a traditional kind of guy. You want your wearable technology to complement your killer suit and tie. We get it. Our smartwatches offer the option of a traditional and subtle accessory, which tracks your movement when in use, collecting your various activities such as walking, running and cycling. And if you need to literally step up your activity, our tech works with top fitness applications that you already know and love.
WEARABLES CUE YOUR ACTIVE LIFESTYLE
We love the sportiness and functionality fitness bands in and outside the gym, but maybe wish they went better with that little black dress or sleek suit. Good news! Our collection of wearable devices for women includes options that look like one of your favourite bracelets with a leather band for work and a silicone band for working out. Wearable tech for men is crafted in polished steel and black leather alongside silicone bands for those hard workouts. Receive filtered notifications from your favourite contacts and track everything from steps to calories, all whilst keeping track of who's contacting you with subtle haptic vibrations from your wearable devices. And did we mention these wearables have interchangeable straps? So you can sport as many looks as you want. Talk about style options.
SMARTWATCH TECHNOLOGY IS A SIGN OF THE (EXCITING) TIMES
This is an exciting time for us at Fossil. When we first started designing and creating watches three decades ago, we saw an opportunity to offer stylish, superior-quality timepieces that would endure the every day. Who could have dreamed then that something like wearable tech was even possible? Our smartwatches are a culmination of what has always been most important to us: you and your life's evolving needs.