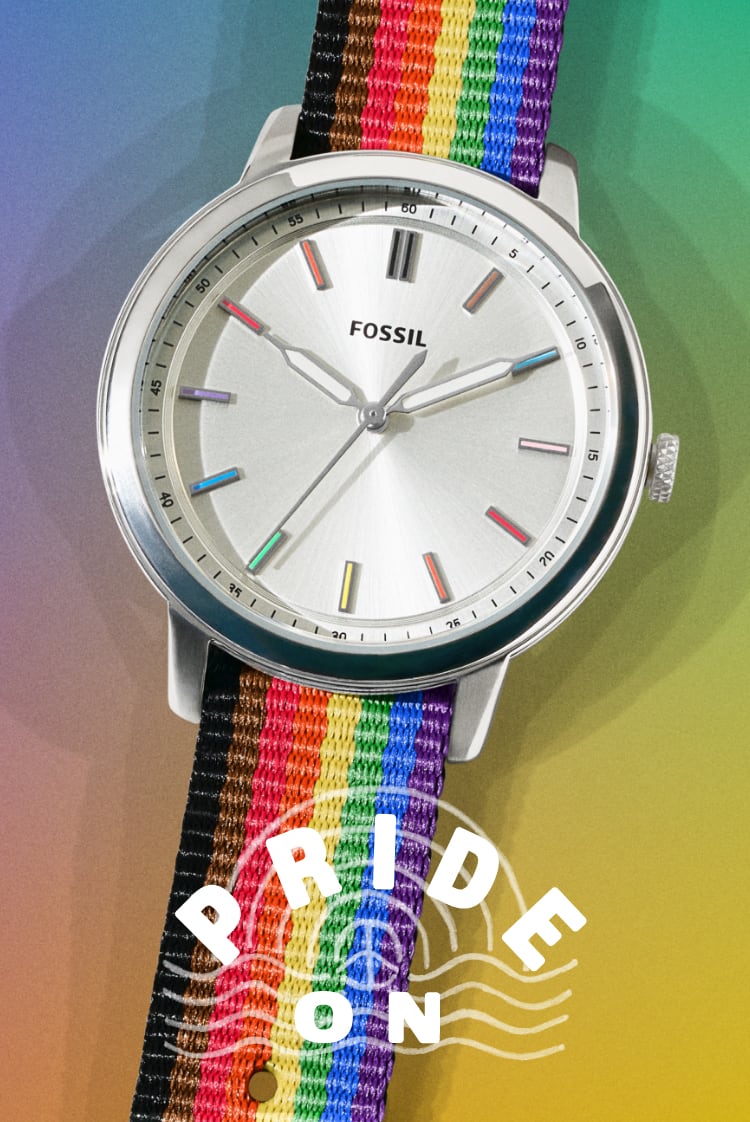 Limited-Edition Collections
While we believe in celebrating your
true colors all year long, we are
currently sold out of our limited-
edition Pride Month styles. Sign up
with your email below to be the first to
know about our future collections.
Pride Bracelet, Watch & Apple Band Styles That Are Totally You
Keep your Pride collection bright and up to date with our latest Pride watches and bracelets. Whether you opt for one standout color or you love to show off the entire rainbow, we've got you covered with Pride watch bands and so much more. Our Pride merch helps you let your inner colors shine while staying true to your authentic style. From Apple watch Pride bands to more subtle pride bracelets, we have the accessories you need. Share your style and one-of-a-kind looks with us on social media using the hashtag #PrideOnFossil - we can't wait to see how you style your Pride collection favorites! Whether it's Pride day, Pride month or Pride year, we've got you covered with the must-have items your wardrobe needs.
Pride Merch That Fits Your Everyday Life
Whether you're headed to a Pride parade to celebrate #Pride2021 or just rocking your everyday life, you'll love the bright colors featured in our Pride merch. Pairing perfectly with your favorite Pride shirts, shoes and other Pride clothing, our watches, watch straps and bracelets are designed to help you add more color to your life. Created with our signature dedication to detail and commitment to excellence, our Pride collection gets bigger every year – giving you more ways to show your pride. Our Pride bracelets easily pair with one of our Pride watches for a cohesive look that's never over the top. If you prefer something a little more subdued, our subtle Pride bracelets also complement our sophisticated stainless steel watches without missing a beat. Whatever your personal style preference is, you'll love all of the different ways you can incorporate our Pride jewelry into the mix.
You're always right on time with our Pride watches. Designed with all of your favorite Fossil elements and a special rainbow touch, these watches allow you to accessorize your life and show off your pride and support like never before. Each year we design special new pieces that allow you to choose how you want to show your support and express yourself. From a rainbow Pride bracelet to an Apple watch Pride band and other bold watch straps, we're always finding new ways to support your unique style. You can show your support everyday with these durable, eye-catching Pride watch straps and accessories. You can even be creative by designing a Pride wallpaper for your smart watch that shines the colors of the rainbow all year long. No matter how you show your pride, you can always count on our special Pride merch collection to have just what you want and need.
Say Happy Pride Month Like Never Before
When is Pride month? It's in June, and nothing says Happy Pride Month like our unique collection of Pride bracelets, watches and watch bands. These colorful accessories help you create one-of-a-kind looks and show your support. Pride watches help add color to your day and keep your looks on point all year round. Sign up for our emails to be the first to know about our newest designs and ways to celebrate Pride each year. Shop our special Pride collection today and find new ways to express yourself.