Black Leather Totes & Tote Bags
Looking for black leather totes? Let us help you find the perfect one.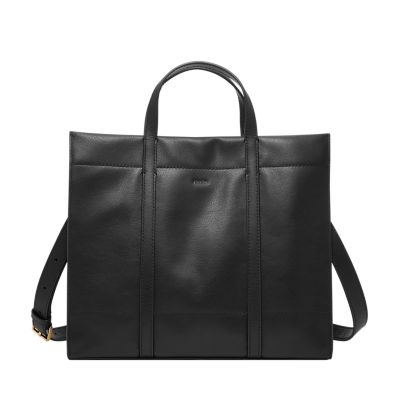 Black Leather Totes To Keep Your Organized & In Style
If you're shopping for a bag that can go anywhere, carry almost anything and undoubtedly look good while it's doing it, look no further than Fossil's collection of black leather totes. In all sizes, styles and configurations, these black leather totes have been engineered to efficiently hold your stuff so you can focus on life's more important moments instead of having your hands full, or shuffling through your unorganized bag. Try a Fossil black leather tote on for size, and we bet you'll see what we mean.
Make A Sophisticated Statement With Black Leather Totes From Fossil
Shopping for the perfect gift? Black leather totes—and the fact that they're customizable with embossing options to make them even more chic and personal—totally fit the bill. Whether you're looking for the ideal birthday gift, graduation gift, anniversary present or "just because" gesture, black leather totes make great gifts.