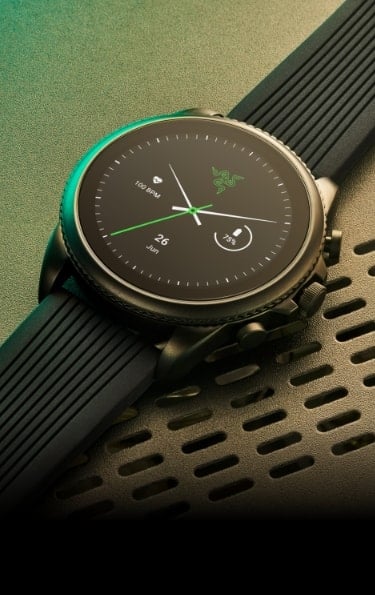 Way more. Way faster.
Way ahead of the game.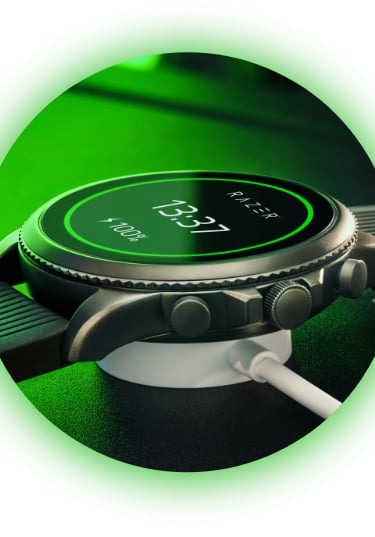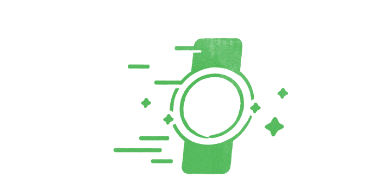 Exclusive Razer Style. Way Faster.
Two custom straps and three
exclusive Razer watch faces.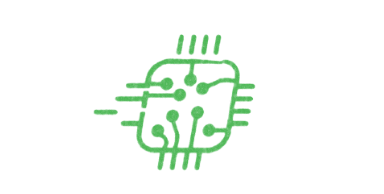 Edge Out the Competition. Way Faster.
Featuring the Snapdragon Wear 4100+ platform with increased performance of +30%.*
*versus Gen 5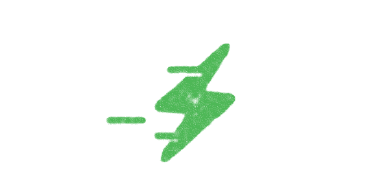 Get Back in the Game. Way Faster.
Charge up to 80% in just
a little over 30 minutes.
Previous
Next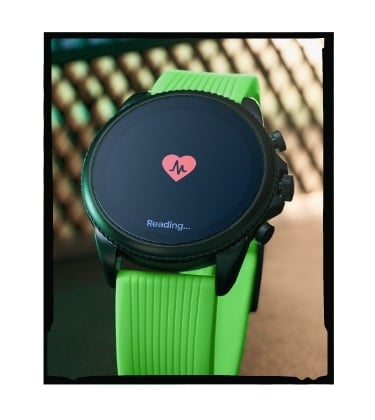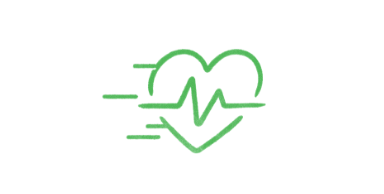 Track Your Stats. Way Faster.
A built-in wellness app tracks your daily step count and sleep quality, alongside continuous heart rate tracking and a new SpO2 sensor to see how well your body is circulating oxygen.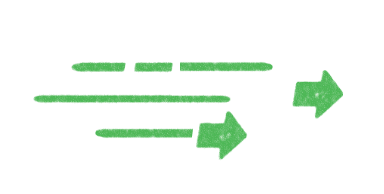 Get Connected. Way Faster.
With Bluetooth 5.0, experience improved connectivity with boosted data transfer rates and up to 4x range, which means faster downloads than previous generations.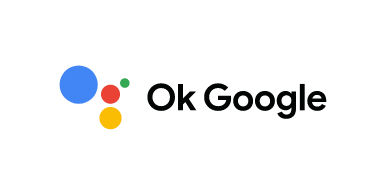 Get Answers On The Go
Manage your tasks,
update your schedule and
get answers with Google Assistant.
Previous
Next
Wear OS by Google works with phones running the latest version of Android (excluding Go edition and phones without Google Play Store) or iOS. Supported features may vary between platforms and countries with compatibility subject to change. Google, Google Play, Wear OS by Google and Google Pay are trademarks of Google LLC. Qualcomm Snapdragon Wear 4100+ is a product of Qualcomm Technologies, Inc. and/or its subsidiaries.
Razer X Fossil Gen 6 Smartwatch Made For Gamers
Whether gaming is your full-time job or your full-time hobby, you don't want to miss out on the latest Razer X Fossil Gen 6 smartwatch. Razer and Fossil have teamed up to bring you an exclusive, limited-edition smartwatch. Designed with innovative Fossil tech and a Razer dial powered by Chroma™ RGB, this smartwatch goes perfectly with your Razer keyboard, mouse and more. This brand-new Razer X Fossil product is a limited-edition release with only 1,337 watches available. If you're new to Fossil, be sure to enter your email and be the first to know when this Razer X Fossil smartwatch drops so you can purchase yours before they're sold out. With this unique Razer X Fossil smartwatch, everyone's a winner.
Razer X Fossil Limited Edition Smartwatch For Next-Level Style
You're familiar with the Razer software and hardware that take gaming to the next level – now it's time to meet the new limited- edition Razer X Fossil Gen 6 smartwatch. This smartwatch for gamers features exclusive details to display your passion and personality. With two interchangeable watch straps in the iconic Razer green and black, you can match your mood and customize your look. This limited-edition smartwatch is also designed with three exclusive Razer dials – Analog, Text and Chroma, which mimics the iconic RGB lighting of your Razer gaming setup.
The Razer X Fossil limited-edition smartwatch also gives you the best in smartwatch technology. Our Gen 6 smartwatches were the first-to-market 4100+ chipset with 30% increased performance for faster app loading, quicker processor and lower power consumption. The Razer X Fossil Gen 6 smartwatch is designed with rapid charging capabilities, giving you an 80% charge in just over 30 minutes – two times faster than the leading smartwatch. We understand that customization is crucial in creating your perfect gaming atmosphere; this Gen 6 smartwatch comes with 4 different Razer Chroma effects to make it the perfect smartwatch for gamers. With seemingly endless dial options, interchangeable straps and the latest tech, the Razer x Fossil smartwatch is ready to enhance your everyday. Pair it with your smartphone and be notified of incoming calls and texts, in addition to receiving calendar and email updates. What's more, you can even track your heart rate and blood oxygen levels with our new SpO2 monitor. Whether you're in the zone or just gaming with your friends, the Razer X Fossil Gen 6 smartwatch lets you focus on your game and still receive important updates without feeling tied to your phone.
Razer X Fossil Smartwatch For Gamers Gives You The Best Of Both Worlds
Razer is the world's leading lifestyle brand for gamers and Fossil has been a leader in combining fashion and function with smart tech. Together, the Razer X Fossil limited- edition smartwatch gives you the best of both worlds. You will never need to compromise style for function again with this new, innovative smartwatch. Complete your ideal gaming gear with the limited-edition Razer X Fossil smartwatch – only 1,337 watches available.